September 2003 - Missing Llama
---
September 17, 2003
September is one of my favorite months. We still get most of the benefits of summer (not cold, everything is green, days are long) without all the negatives (hot, swarms of bugs, high humidity, weeds growing a foot a day).
---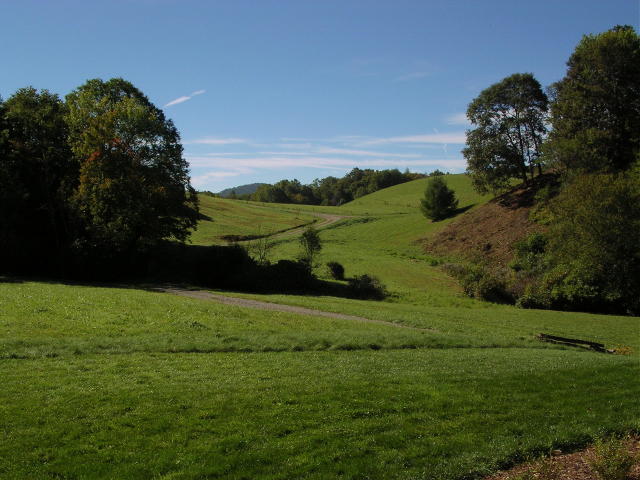 This is the view from my kitchen porch on the beautiful morning of September 17th. What a refreshing morning...
---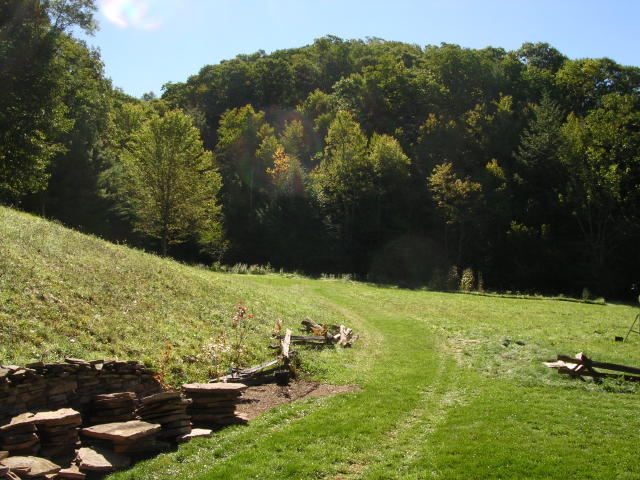 ...it's cool and crisp. It makes you feel glad to be alive.
Here you can also see artifacts of my next big project. Building a stone walkway/patio behind my house...
---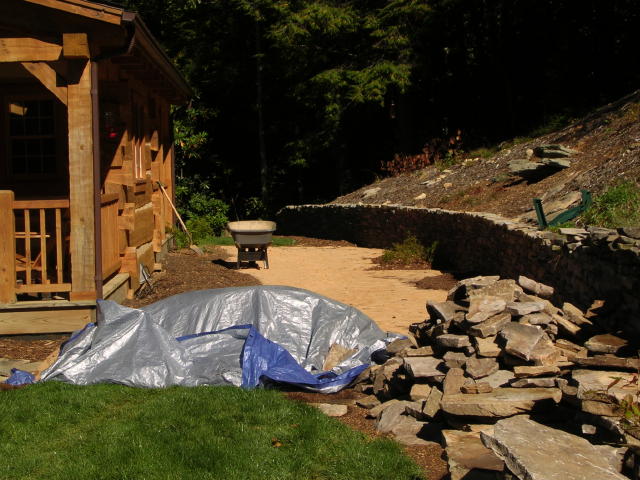 ...It is going to be a major undertaking. Hopefully the final result will be worth all the work.
---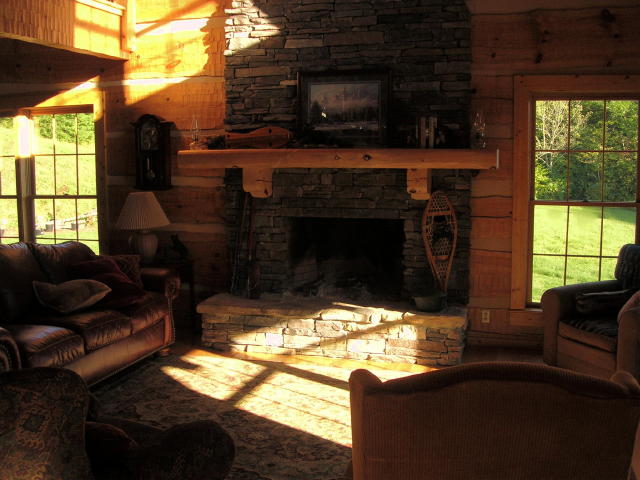 The living room on a September evening
---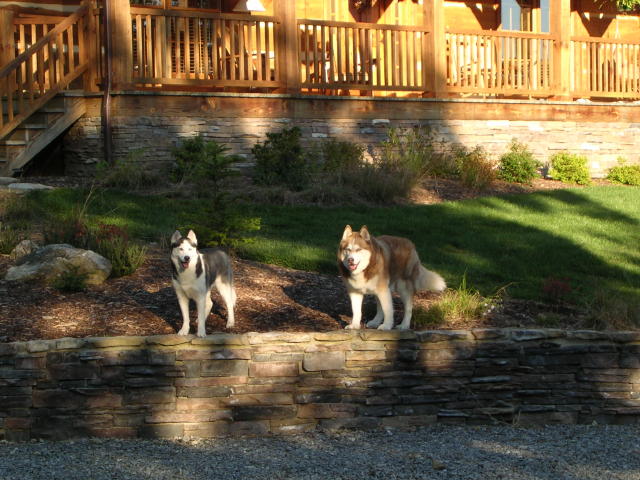 Timber and Sugar are out playing...
---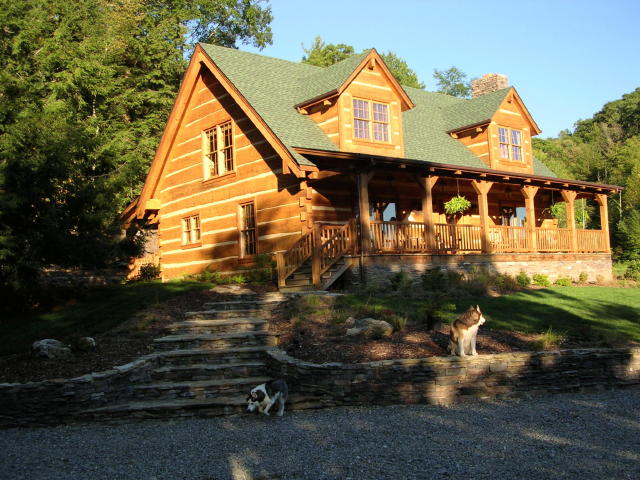 ... on a really a nice afternoon. I hitch them up and go over to the pond...
---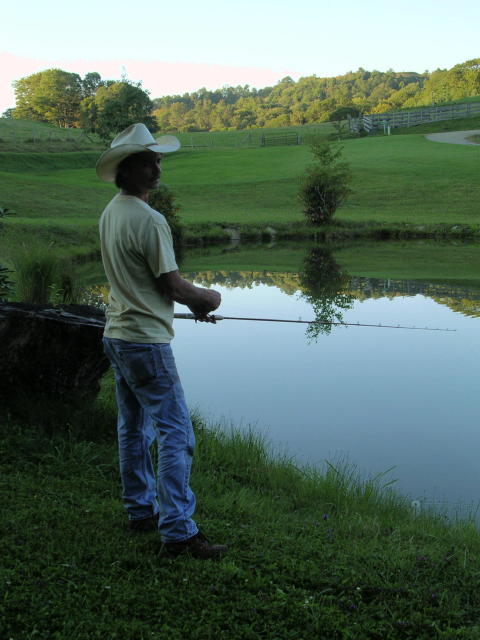 ... where my friend Kenny is fishing. While at the pond the dogs keep sniffing the air and straining to get down into the woods below the pond. I thought, that this was really odd. Something must be down there they can smell....
---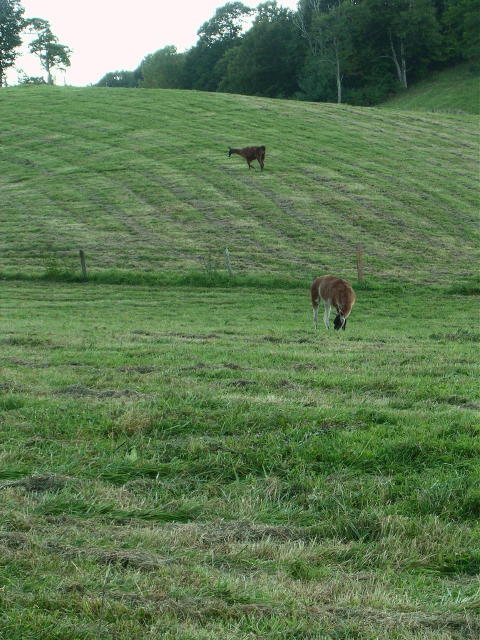 On the way back to the house I take this picture of two of the Llamas.
.... as it turns out, this was the last time I would see Ace (the dark brown one on the hill) in the pasture.
---
September 18th
Timber wakes me up at 6:00 in the morning, needing to be let outside. While outside, I notice all the Llamas in a group in the middle of the pasture. All standing, all very alert. I thought, "That's strange". I went back to bed for two more hours....
...I woke up at 8:00 and went to the computer to see what work related e-mails had come in already. I had an e-mail from Lucy. She had come by around 6:30 to get the Llamas for a trek she had today. She said she couldn't find Ace in the pasture and that he must have jumped the fence. She said she didn't have time to look for him since she was on a tight schedule, but would I mind keeping my eye out for him today.
So I got dressed and went out see if I could find him before I had to start work at 8:30. I found no sign of him. I met Grady out mowing a field and told him to keep an eye out, that Ace got out overnight.
Around noon, Grady came over to the house and said he thought Ace must have crawled under the fence. He could see a tuft of hair caught on the bottom strand of barbed wire over next to the pond. I go over to investigate.....
---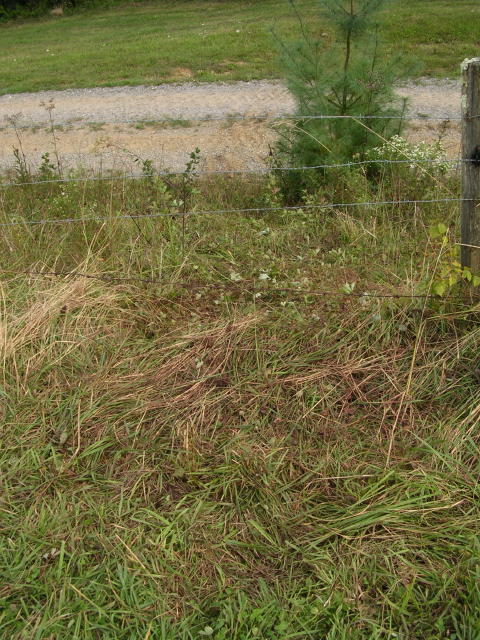 I climb up the bank where the tuft of hair was. What I find is disturbing. There is blood all over the grass right up next to the fence and the grass is all matted down. I thought, maybe he was trying to get out and cut himself on the fence?... ...but there is so much blood on the ground?...
---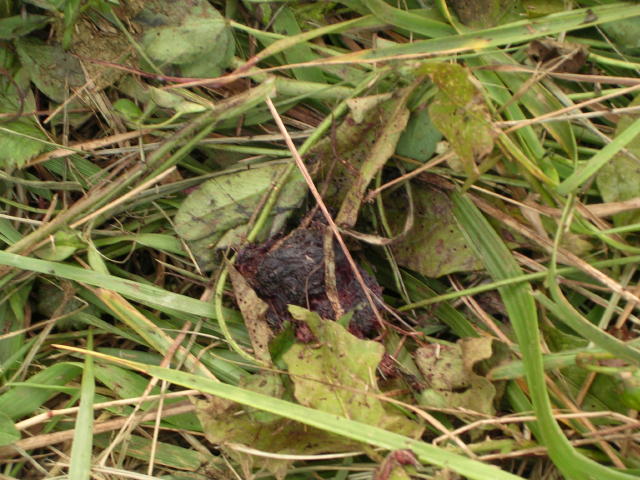 The area smelled of blood and Llama. I find this clump of meat amongst the bloody grass. It's certainly not looking good. Something bad has happened here. But what could have happened? There is no sign of Ace? He must have escaped and run off, injured?...
---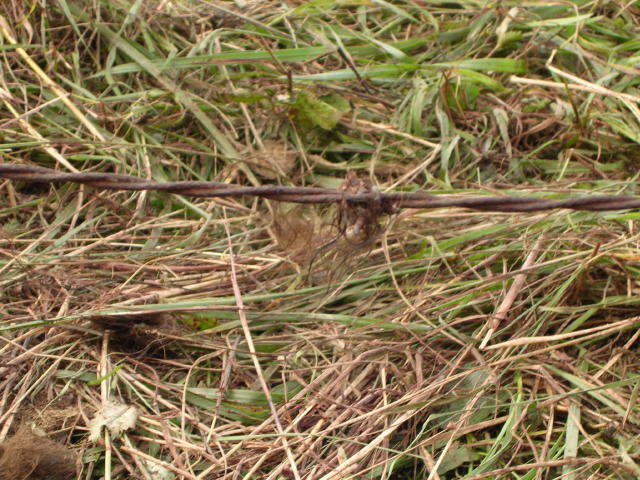 This is the clue of the tuft of Llama hair on the barbed wire. It looks like he went under the fence...
---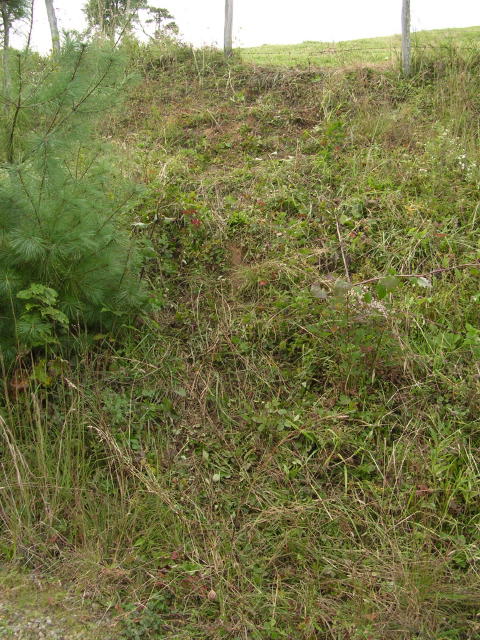 ...I go back down the bank to the road. I hadn't noticed it when I went up, but there was a trail of messed up grass and weeds coming down to the road...
---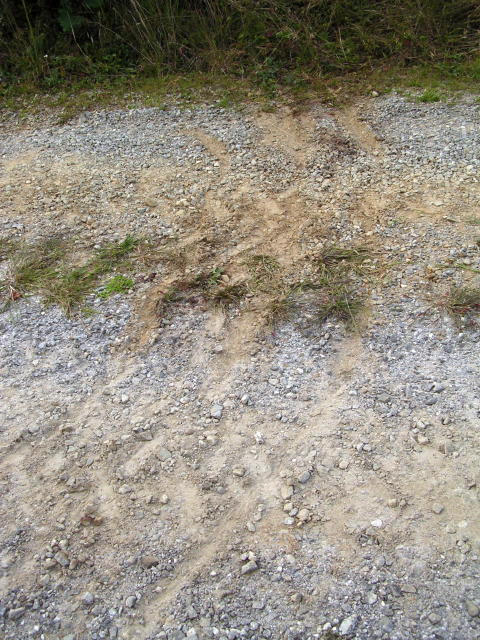 ...Then, under Grady's tractor tracks, I saw these strange markings going across the road. Like something had been drug across the road. I thought "huh oh". I decided to follow the trail...
---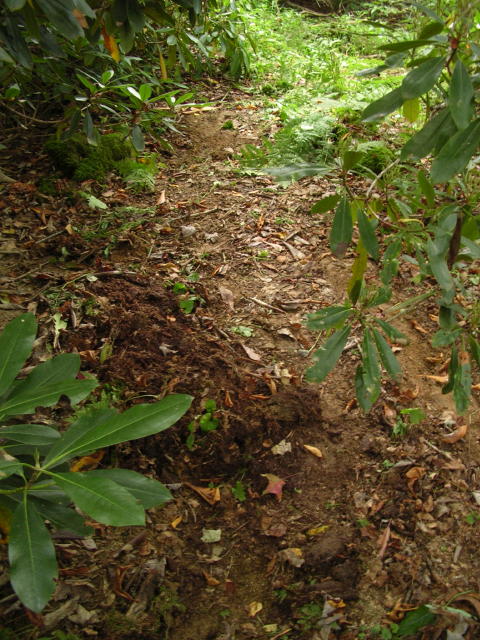 ...It went across the road and down the bank on the other side into a laurel thicket. Down I went through the laurel thicket. Following the drag marks. Deeper and deeper into the ticket it went. Over logs, over rocks, deeper and deeper. At times I had to crawl on all fours to get myself under and through the Rhododendron thicket. I was moving along very fast, hot on the trail.... when I ran up on a scene that made me yelp in surprise....
... It took me a half second to figure out what I was looking at... even though I really already knew. It was Ace. Or at least what was left of Ace... It looked like a large portion of him had been eaten. I could smell blood, meat, and internal organs. It was awful.
---
Due to the graphic nature of the scene, I put the pictures on a separate page that you can look at if you choose.
---
It only took a split second to realize that a bear must have done this and that it might still be nearby! Here I am, alone deep in a laurel thicket, unarmed, and standing over it's kill. Not smart. I back track my way out to get help. On the way back, I find a fresh pile on bear scat right along the path were it had drug Ace.
Me, Kenny, and Grady manage to get Grady's tractor down a trail and to within the length of my tow rope of Ace. He was already starting to smell pretty bad. We pulled Ace out and buried him in a big hole Grady dug with the front end loader. Not too far from where I found him.
I had the heart breaking task of calling Lucy and telling her what had happened. I did leave out all the gruesome details though. Her boyfriend Keith was very upset. He had helped raise Ace as a pet. This was why he was the only one of the llamas that would come up to you. He was often away from the other llamas on his own. He wanted to be with humans instead of the other llamas. We considered if this had possibly lead to the bear attacking him. Lucy said he also tried to protect the other llamas before, so maybe that's what happened. We'll never know what went on that night.
Lucy had said she couldn't believe what the bear had done. She said Ace weighed 300lbs during his last checkup and had gained a lot of weight since. This meant that the bear had drug at least a 300lb animal under the fence, down an bank, across the road and several hundred feet into a laurel thicket, over logs, rocks, and through thick brush. When we had the rope around his neck after pulling him out with the tractor, I tried to see if I could budge him. I could not. Not one bit. I could lift up his head and neck, but even with all my weight leaning back into the rope I couldn't move him at all. That made me realize how incredibly strong and heavy this bear must be.
Follow up...
Over the next couple of days we saw sign where it looked like the bear was trying to dig Ace up. Luckily, he never did though. We have seen signs of this big bear often. If you go down into the area where he pulled Ace, in the woods below the pond (I now call it the Bear Den), you will regularly find bear tracks and scat. Needless to say that I do not go down in there.
A few weeks later bear season started. As usual a hunting dog wandered to my house. I called the man who owned the dog to come and pick him up. While talking to him, and then later other hunters, we found that a total of 7 hunting dogs were killed, and 3 more severely injured. All right around the Ranch within a 1/2 mile of where I found Ace. The hunters where all spooked. They had never seen anything like this. One of them said, and I quote, "This things a monster!" Two of his dogs had been killed. One of them was partially eaten.
We are all a little wary around the Ranch now. Needless to say, you can't help but be a little on edge when you are outside and even more so after dark. I try to walk my dogs before dark. I carry my pistol whenever I'm out walking the dogs and most other times too. If I have to walk them after dark, I scan my meadow and woods with my 2 million candle power spotlight before I let them out. Even then I keep them close, and we hurry.
I hate to think of what might have happened the evening before Ace was killed if I had not had Timber and Sugar on their leash. They where straining with all their might to run down into the woods. Where we now know there is a big bear that seems to have no trouble killing dogs. Its one of those things that makes me cringe when I think about it. I got lucky. I have to be more on guard and never let myself get too complacent.
Ahhhh... life on the frontier.