Trip West 2003 - The Plains
DAY 4 - September 30, 2003
---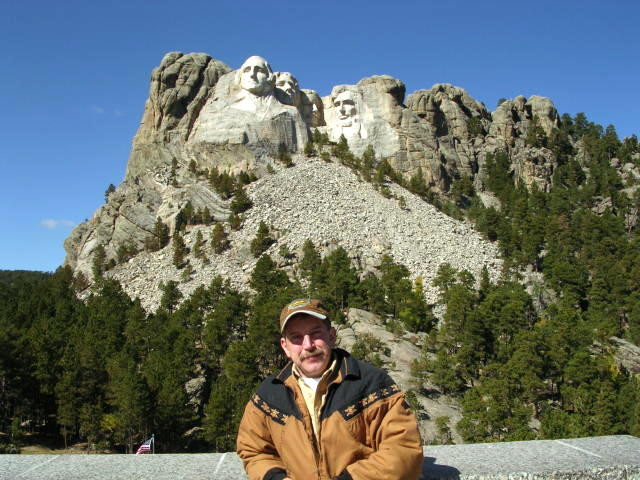 Guess where I am this morning. Mt. Rushmore is a very spiritual and relaxing place to me and is actually a nice place to visit. I've been many times. The trip up the mountain is always relaxing and I like to just sit and listen to the wind and the hawks. Of course when I'm here in September and October the crowds have gone for the year.
---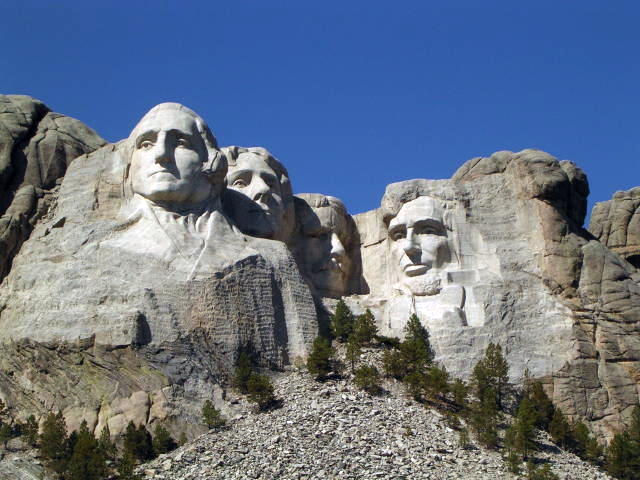 The sculpture is cool too. My favorite is Jefferson. I like the way he seems to be staring off into the future, like he can see what is going to become of the nation he helped found.
---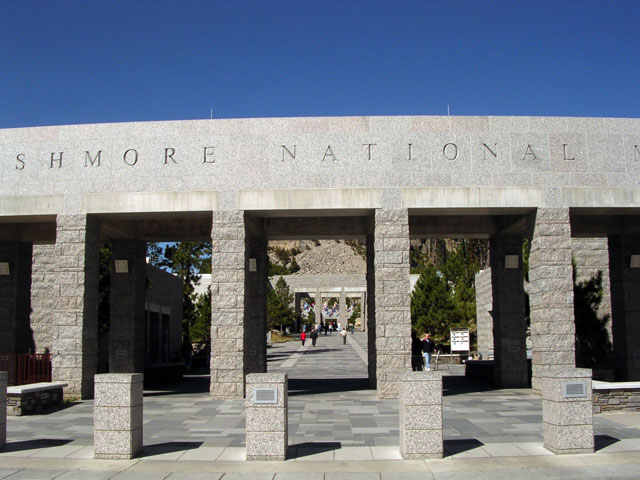 I liked the old visitors center they had back when I first visited in 1993 more than the new one. It was small and rustic and fit in better with the feel of the mountain. The new center is all marble and granite and even has a 4 story parking deck. It looks like it belongs in Washington D.C. It definitely has that Federal Monument feel to it. I guess a thousand years from now the ruins of this place would be cool though.
Although I didn't go on this trip, the Crazy Horse Memorial is another cool place to visit. When complete it will be the largest sculpture in the world.
---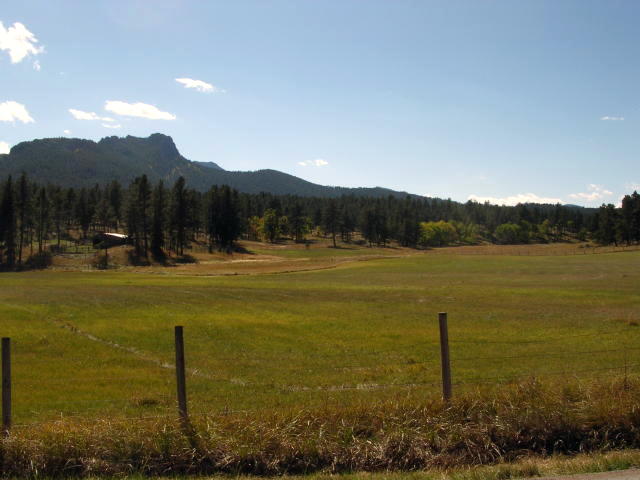 The Black Hills have a certain feeling to them that I love...
---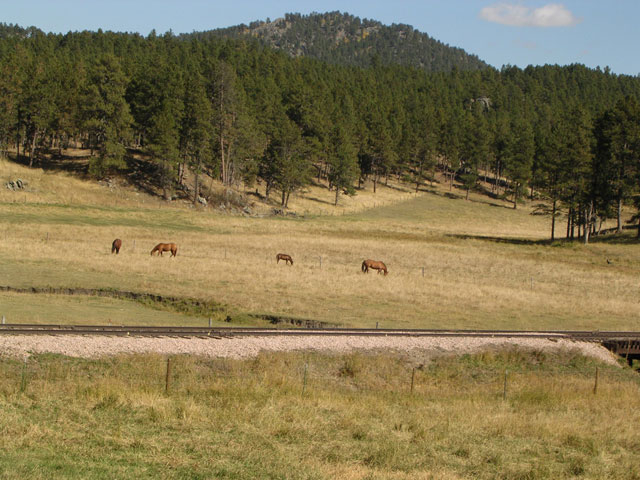 ...pine covered mountains with broad grassy valleys with cattle, horses, and hay fields.
---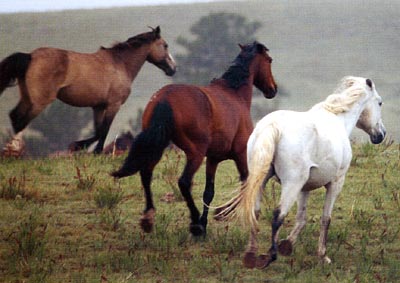 Speaking of horses... if it's horses you love, and I do...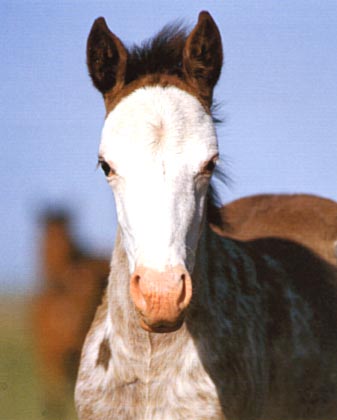 ... you can head south of Mt Rushmore to Hot Springs SD, and go to the Black Hills Wild Horse Sanctuary! The two photographs above are copyright © 2003 by Alvis Upitis, you can view more of his work in the BHWHS photo gallery.
---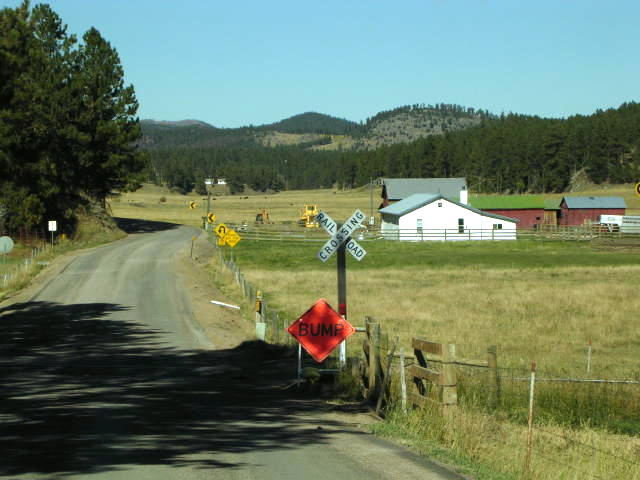 Here we are on the Old Hill City road that runs between Keystone and Hill City. I would not mind living here at all.
---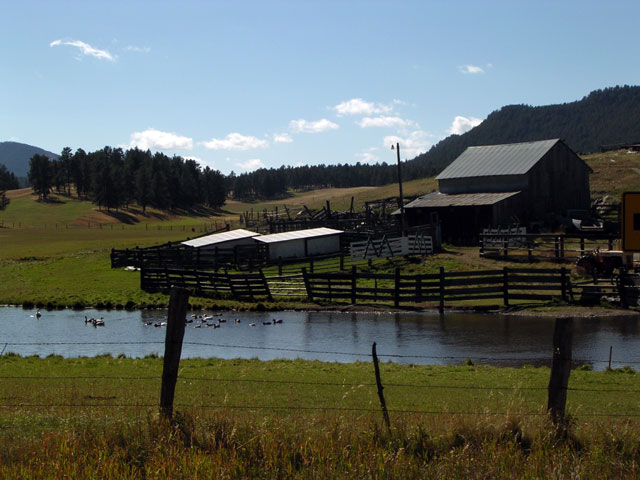 Water doesn't seem to be too scarce so there's lots of green and a few ranches, but not a lot of people.... sounds good to me.
---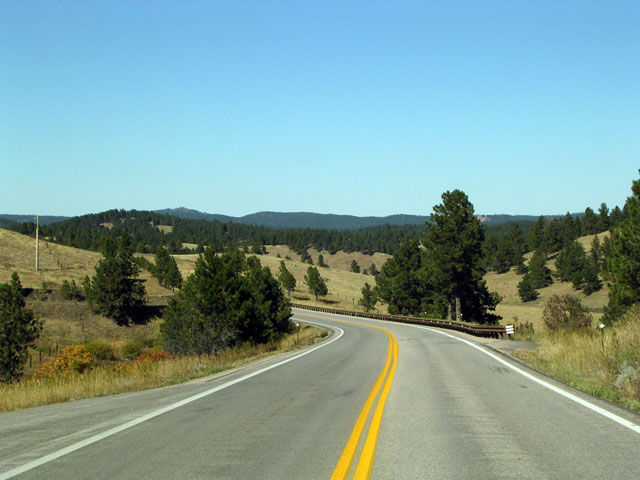 We are on US 385 heading from Hill City to Deadwood.
---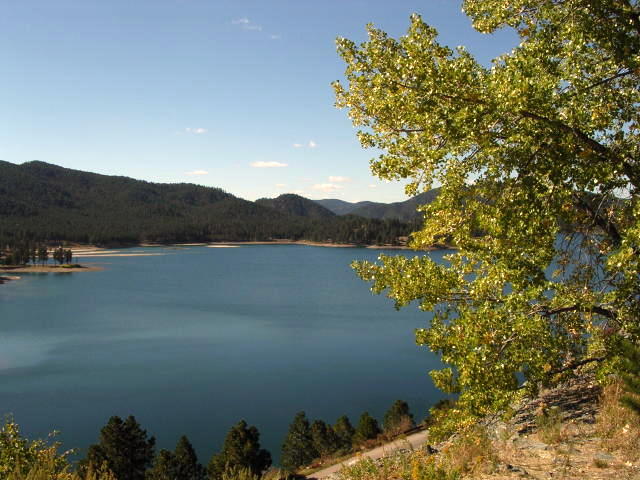 I've stopped at this reservoir overlook just past Custer Gulch Road many times .
---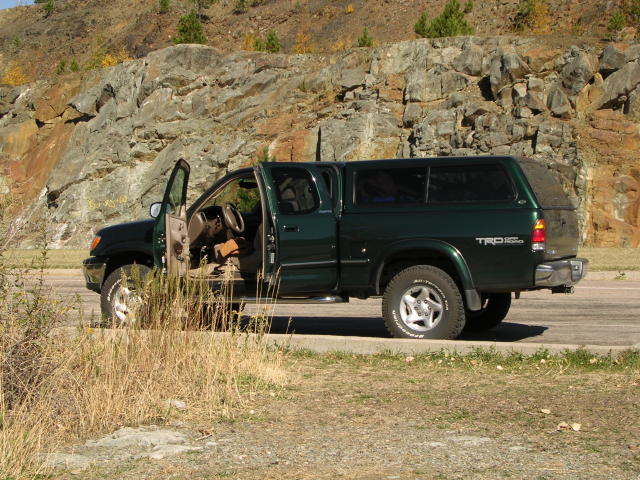 I get the dogs out for a little walk about..
---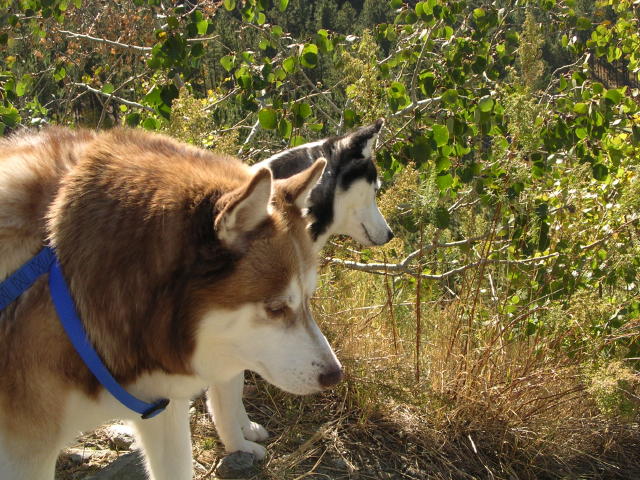 ... of course they enjoy getting out every chance they can. It also give me a chance/excuse to get out and see things I probably wouldn't if I weren't walking them. Here Sugar has just heard something moving around in the grass.
---
Back on the road we go through another scenic valley.
---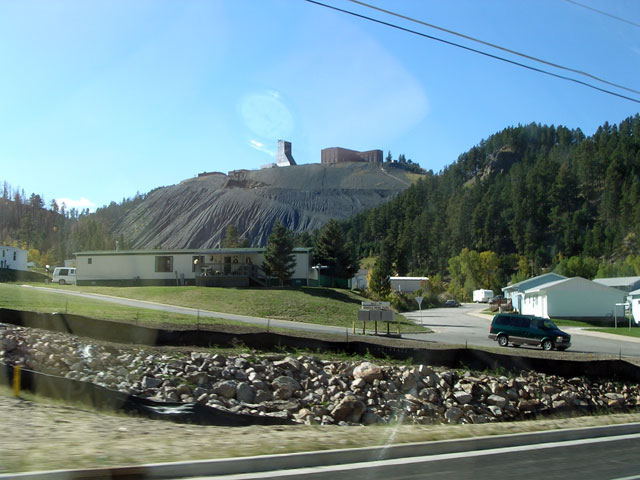 Of course it's not all scenic, but interesting none the less. This is the Homestake goldmine in Lead, SD. According to the Black Hills Mining Museum, "The Homestake mine, which ceased operation in 2001, was one of the largest in the world, reaching a depth of 8,000 feet below the surface of the city of Lead ". Of course gold is what brought white settlers to the Black Hills, but that is another story.
---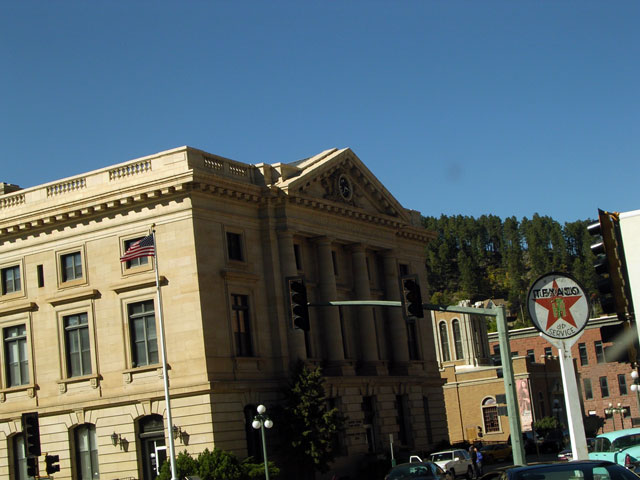 Here we are on the outskirts of Deadwood, SD. We didn't go all the way to Main St. on this trip, but I've been there before.
Deadwood is an infamous town. Resting place of Wild Bill Hickok and Calamity Jane. You can read a little about it's colorful past here. To quote the author from the Deadwood about page, Dusty in Deadwood, "In reality, Deadwood during the 1870s was indeed a pretty brutal place. Some sources estimate there was a murder a day in the ramshackle gold camp, which was destroyed several times by fires, floods and blizzards. Some order did arrive when Seth Bullock was appointed sheriff. Of course, as John Leonard mused in New York magazine last month, this was like "being appointed hall monitor in hell." "
The town is full of gaming halls (for some reason they don't like to call them casinos). Quite a unique town. Heck it even has an HBO series about its old days!
---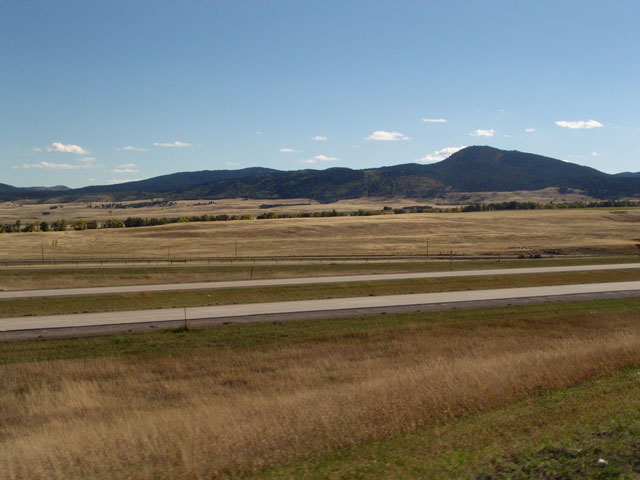 Ahh, we're about to get on I-90 west. Soon we'll be in...
---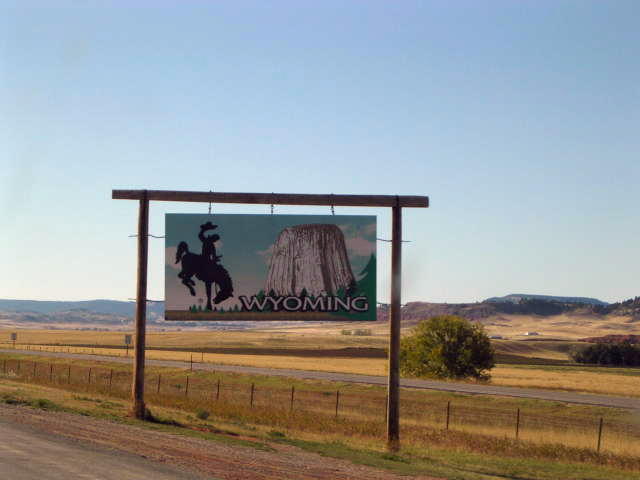 ...one of my favorite states!
---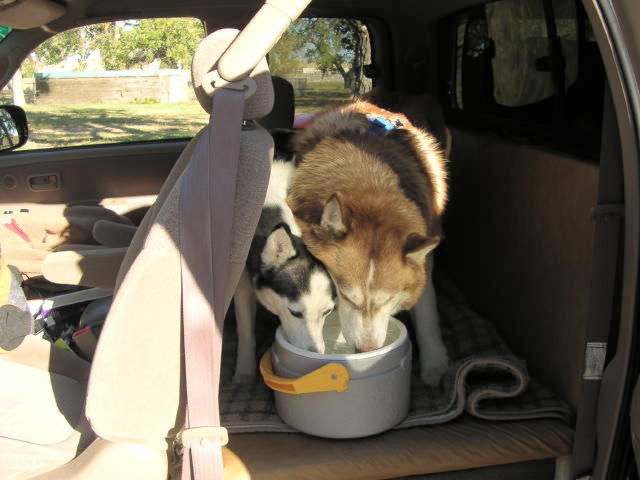 Time for another pit stop. Kenny and I get out and stretch a bit. I give Timber and sugar some water.
---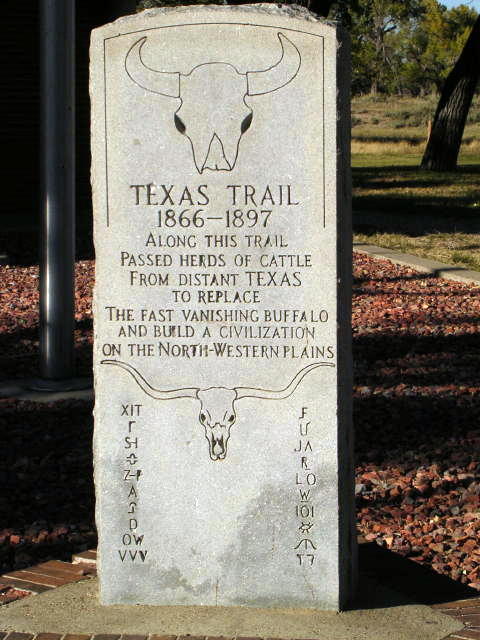 An interesting monument here at the rest stop.
---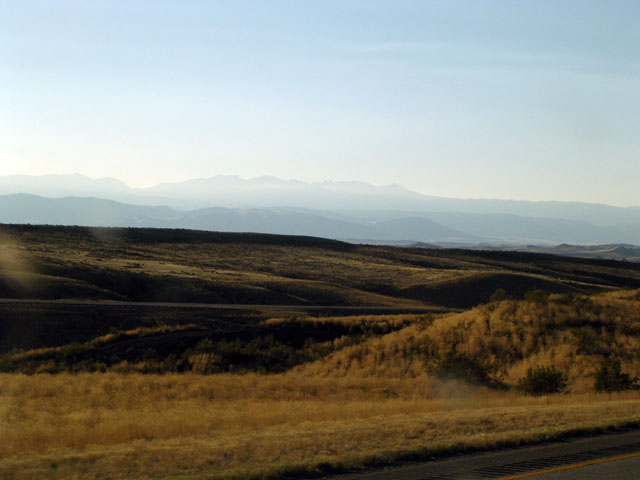 Back on the road for a while and we start to see some big mountains off in the distance. The Big Horns! You can first see the mountains when you're probably 50 miles way. The highest peaks are over 13,000 feet!
It's time for us to leave the Interstate behind and cut across the state. There are three roads that cross over Big Horns. I've taken them all (I've been on every major road in Wyoming!) From Buffalo I decide to take US-16 to the Powder River Pass and over to Ten Sleep. Of course I have another reason for taking this road...
... Right before I came out to Wyoming the first time in 1993, I read a really good book by Gordon R. Dickson called Wolf and Iron. It is set in a post apocalyptic future. The disaster wasn't nuclear, it was just called the Collapse. Everything, the whole global economy, just fell apart. The main character escapes the hell that the cities became by walking all the way from Michigan along abandoned I-90 to the west side of the Big Horns. The book describes the journey across the prairie and mountains and is written well enough that you can really feel what it would be like to walk it. Rain, sun, snow, hunger... you can feel it. You are there when he's fighting bears (he almost dies from an infection from that attack), avoiding people (they usually try to rob you), starving, figuring out how to survive. Even though it's set in the future, it's really what a journey across the county would have been like 200 years ago, but from the perspective of a modern day person. He misses all the conveniences he used to have and he doesn't know much more than the basics of how to survive. Along the way a Wolf starts traveling with him... I had better stop or I will recite the whole book. Anyway, the main character crosses the Big Horns on US-16 and camps in Ten Sleep for the night...
... So when I come this way I can remember all the experiences I had through the book as I retrace his journey taking the same route!
---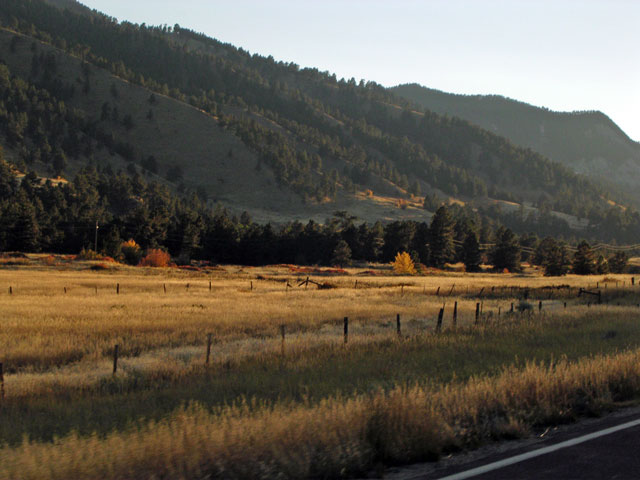 We start up the mountain as the sun starts to go down.
---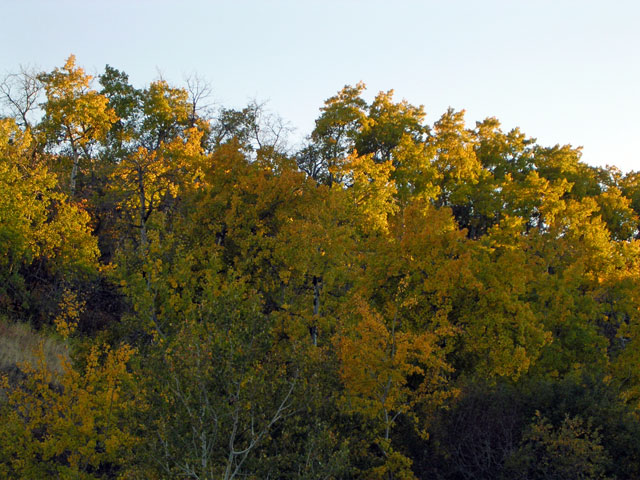 The Aspens as we go up are starting to turn... it's fall here. Too bad I wasn't able to take more picture as we went...
---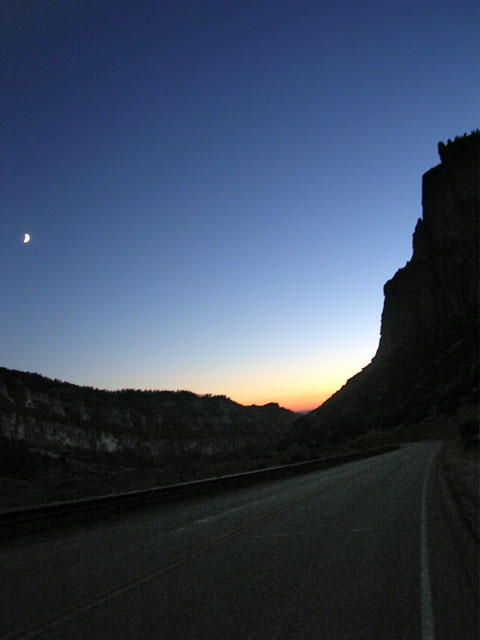 ... here we are going down the west side of the mountains, heading down into Ten Sleep.
The sun has set and I don't have time to stop and take pictures in the low light. After getting out of the Big Horns there is not a lot to see as you cross the Wyoming Basin. So we're not stopping until we get to our destination tonight, Cody, WY. Half way across the state!
---
Back to Day 3