August 2003
August was a mostly uneventful month. Here are a few pictures from some of the "excitement" from August.
---
Me and my friend Kenny took a hike up at one of my favorite places.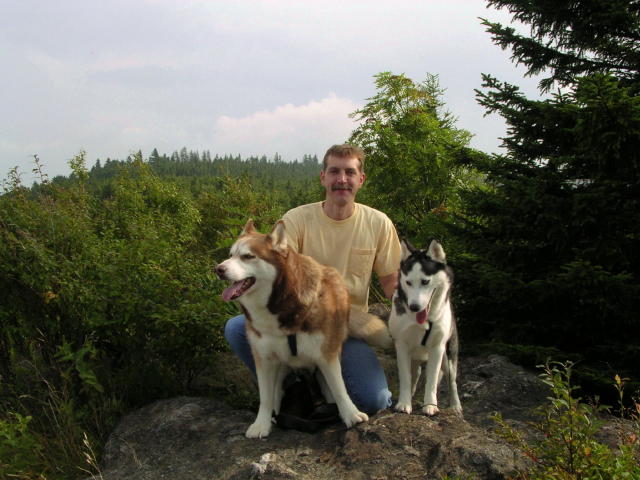 Here Timber, Sugar, and I pose for a picture high up in the Shining Rock Wilderness, on the Mountain to Sea Trail. We are hiking along a ridge line at 5700-6000 feet in elevation. For those of you out West that are unimpressed by those elevations realize that this is about 5000 feet higher and about 20 degrees cooler than the flatlands 50 miles away. When I was growing up my family came up here all the time. In fact, my first camping trip was only about a mile away.
---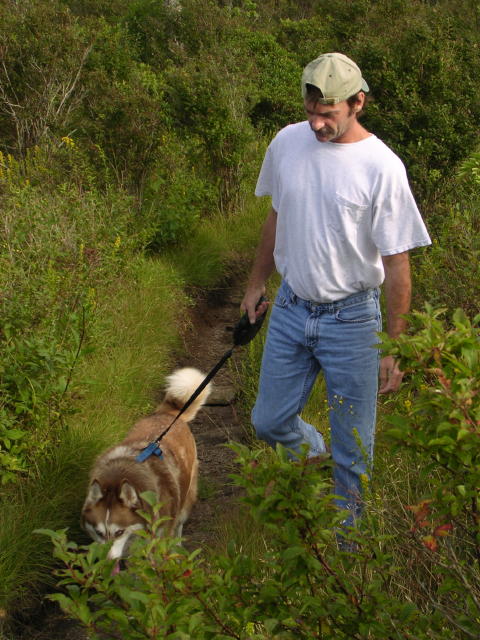 Here Kenny comes down the trail with Timber. The shrubs all around us here are wild blueberries.
---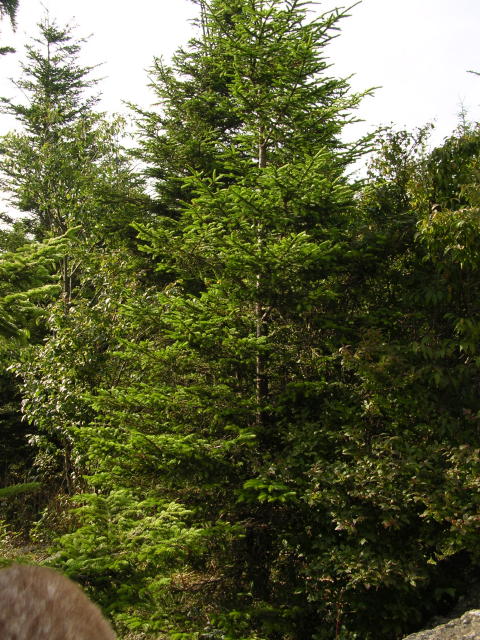 At this elevation we are in a Red Spruce (Picea rubens)forest. This Balsam(Fraser Fir) and Red Spruce forest is an ancient remnant of the spruce/fir forest that grew here during the last ice age.
---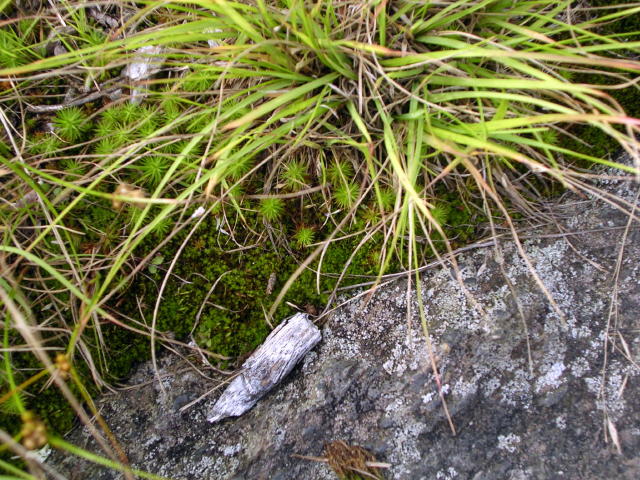 The plants and feel here is like being in Canada. Very different from the mountain valley floors 3000 feet below.
---
Later in the month......
---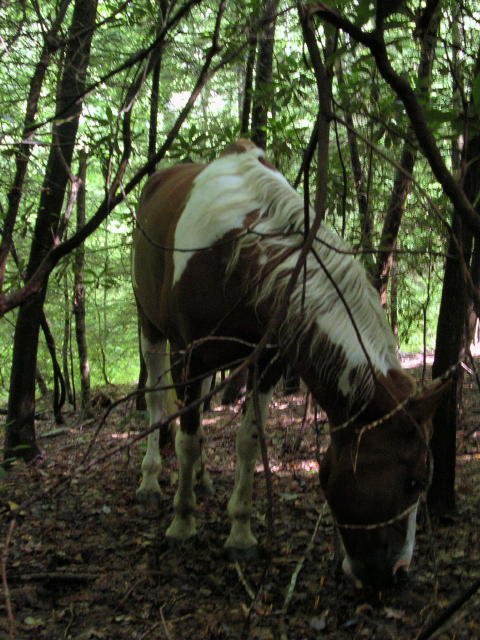 An another day I woke up to see a horse staring in the house. Some of Lucy's horses had escaped from a neighbors pasture up the road and come to visit me. By the time I got my camera out, they had gone into the hemlock/laurel thicket below my garage.
---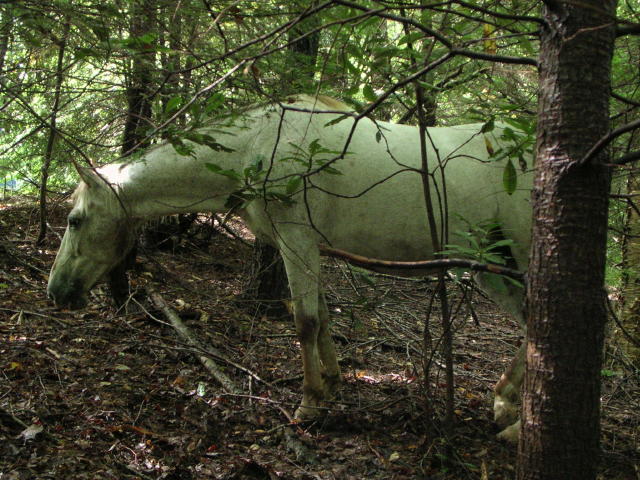 The didn't want to come out! ....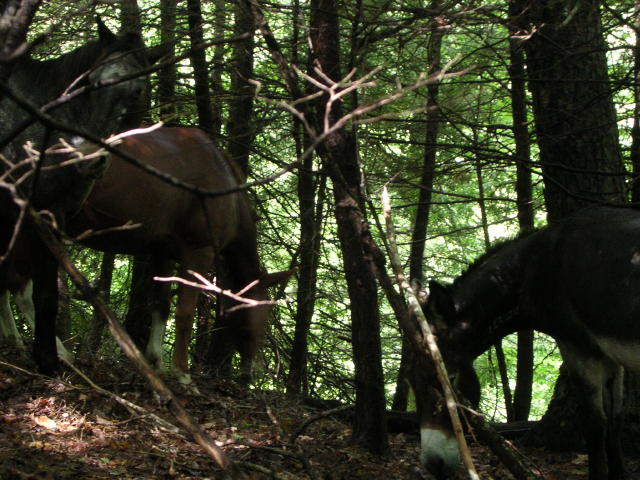 There where four horses ....
---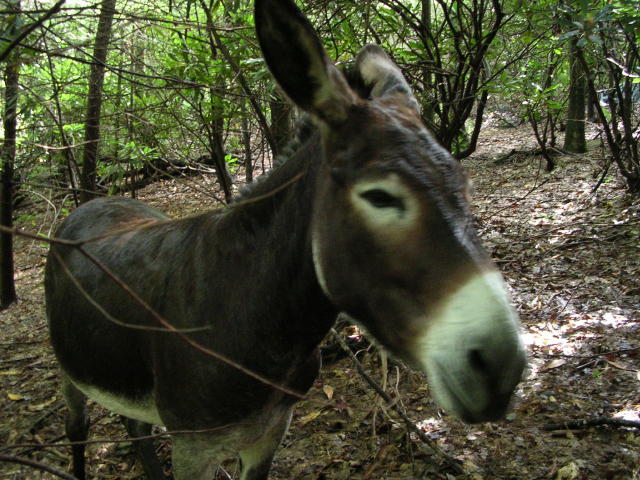 and one donkey in the woods! It was hilarious, we could not get them out. I guess they likes the cool shade.
---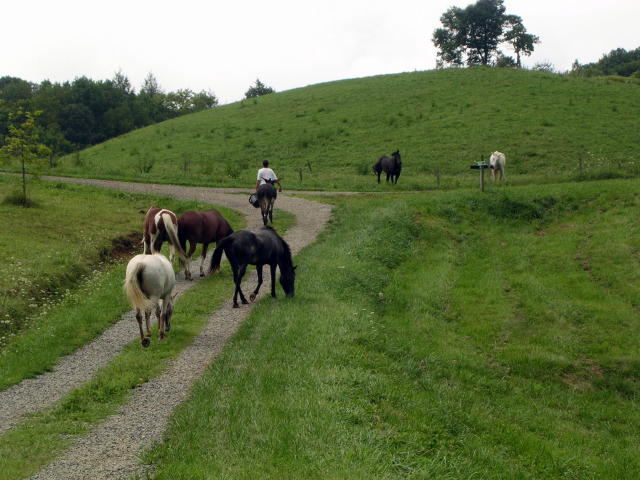 Luckily, Kenny had picked a bucket full of apples to can (preserve). We used them to lure the five escapees back up to their pasture up the road. The two horses in my pasture where screaming and wanted to get out to go with them.